Thrive Life Foods – Love these products!

Simple.  Clean.  Food.  Delivered to your door.
Our Testimony:
In 2011, my husband set us up with some long term food storage as a part of an emergency preparedness plan. After hours of research he ordered THRIVE LIFE freeze dried food products and we also purchased some canned goods and MRE's and put them in storage in case of some catastrophe.
In 2016, he decided that we didn't have enough in storage, so this time he gave me the assignment to add more foods to our supply.   I got heavily into determining which was the best bang for our buck and also I wanted to add some variety to the collection.
I created a spreadsheet and compared price per serving on various products from various sites, including THRIVE LIFE.
As I studied all this, I found that people were using THRIVE LIFE as a daily food supply not just for Emergency Preparedness.   This made me aware, for one thing, that we had had all that Freeze dried food for 5 years and we had never read the instructions or tried any of it!
The more I read on THRIVE's site the more I realized they had a lot to offer and that I actually might be able to save food dollars on our regular food supply by joining them as a consultant, and well, the rest is history.
I did become a THRIVE LIFE consultant, hosted tasting parties, and I began preparing meals with the food from THRIVE and we loved it.  Now it is not necessarily cheaper than my groceries I buy in the store, BUT, some of the advantages will be revealed below as I tell you about the products and how they are prepared and how I don't deal with so much waste of food or time when I use my THRIVE LIFE products.   Note: Our THRIVE LIFE site is located at https://www.pinnaclepantry.com.
Watch for more blogs with Recipes and tips and tricks for cooking with THRIVE and making money as a consultant!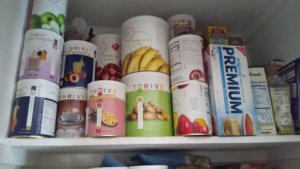 LEARN MORE:
Whether it is freshness, high quality standards, or natural health that you are looking for.  Or if you are looking to get a quick, nutritious and tasty meal on the table Thrive Life has it.

CONVENIENT! 
Quick and Easy Cooking.
It is Prepped for You!
No Washing Fruits and Veggies

No Chopping

No Peeling
No removing fruit rinds, seeds, pits, etc
No thawing and browning meats
No breaking and separating eggs
Use in your favorite recipes.  It is easy to sprinkle onions into sloppy joes, or toss the potatoes, carrots and green beans into a crockpot with a roast.
Kid Friendly Cooking. 
No knives needed!  Using Thrive Life for meals is simple for kiddos.
You can even put meats, veggies, beans, rice and seasonings into containers (also known as Meals in a Jar) for each day of the week and the kids (or Dad) can make them by just adding hot water.
Simple Plate – One stop dinners. 
When time  is extra tight, Simple Plate meals provide all the ingredients you need to get dinner on the table fast.
Recipes.  
Thrive Life has their own chef (Chef Todd) who has created a variety of recipes for us and we have access to them via the website.
HEALTHY

Thrive Life is much better for you than eating processed or fast food.  They typically keep a fresh taste and their nutrients last longer than produce in the grocery aisle.  They have no harmful additives and preservatives.
Thrive Life foods are preserved naturally.  The freeze drying process allows Thrive Life to preserve their foods naturally.  Study the labels and take note of the ingredients.  Most have just one ingredient unless it is a kit for something like Cornbread.   But there are not long lists of ingredients that look like Greek to you and you have no idea what they are!
Fresher than Fresh
Thrive Life foods are preserved during the freeze dry process.  Foods start losing their flavor and nutrients the moment the are picked.  THRIVE stays healthy and fresh-tasting for years to come.

Trimming the Fat
The average fast food meal contains an astonishing 1,200 calories and 53 grams of fat.  When you need a quick meal turning to THRIVE instead of the fast food lane will help your health and your wallet.

Cost Efficient $
Waste!
How do you balance convenience, nutrition and food quality without breaking the bank?
How much of your produce you buy at the grocery store ends up in the trash or garbage disposal?    American households throw out a shocking 25% of their food on average.  Most of it comes from foods that SPOIL before they ever get to the plate!  That's an average of $2,000 per year that families spend on food that never reaches the plate.
With THRIVE you will have no more rotten food.  No more dealing with perishables that spoil, mold or get freezer burn.  THRIVE does not go bad in a few days.   You will only pay for what is actually edible  No more paying by the pound for food that is going to get cut away and disposed of.
You will be able to scoop out just what you need and not worry about buying a quantity that you will not use before it goes bad.
THRIVE foods have an extended shelf life of up to 25 years and after opening most are good for 1 to 2 years!
The New Fast Food
The average American eats fast food 159  times a year or 3 times per week.  At $5 to $10 per meal that adds up pretty fast.  No you can spend that much for quick healthy meals at home.
Beat the Impulse buy!
Using THRIVE means fewer grocery store visits.  That saves gas money, time, and removes impulse buying temptation.  By getting your food shipped to you, you will stay out of the stores and save dollars!
You can start saving by ordering you groceries online from THRIVE.   You can also consider becoming a THRIVE consultant and earn lots of FREE food.
TASTY!
See What Our Customers are Saying at THRIVE LIFE.
Our R and D team is committed to finding the best-tasting foods in the world, and our in-house chef's culinary team makes sure each food will create meals that look, smell, and taste fantastic.  See links below to comments from people who are using THRIVE.
Kid Approved!
Kids can't keep their hands off THRIVE.  They will forgo chips and candy for THRIVE fruits, veggies, and yogurt bites straight from the can!
Tasty Recipes!
Besides all the recipes available from the THRIVE culinary team, customers and consultants may submit their recipes as well. There is no shortage of recipes for use with the THRIVE foods.
QUALITY!
When you pick up a can of food at the store do you know what quality standards it was held to?  Where it came from? 
With THRIVE you can know these things!  THRIVE picks the best products so you don't have to.  Every can contains foods with the flavor, taste, color and  appearance that will create the best possible eating experience.
All in a Day's Work!  Strict procedures are followed to make sure THRIVE products are the very best.
STEP 1:When product arrives at the THRIVE facility the trucks are inspected to make sure the food was packed and transported correctly.
STEP 2: THRIVE inspects eevery lot of product and compares it with control samples to make sure the taste, color, size and appearance all meet THRIVE high standards.
STEP 3: Before production, the room is inspected to make sure all equipment and working surfaces have been sanitized and are working properly.
STEP 4: Product rooms are inspected every hour to ensure equipment is working properly, employees are following procedures, and cans are being packed correctly to ensure optimal shelf life.
STEP 5: Shelf life testing is performed on products after different intervals to make sure they maintain their quality and freshness through the stated shelf life.
LONG LASTING!
After years of rocket scientific research, lab tests, expert analysis, picky eater taste tests, and busy mom's stamps of approva,l THRIVE perfected the art of long lasting food.  You get strawberries that keep their tart yet sweet flavor, mushrooms that maintain their shape, and nutrition in every plate.
DELIVERY SERVICE!
The Delivery service allows you to pick your orders from the convenience of your computer, schedule shipments when you wish them to hit your credit card, and to arrive at your home.  You can skip a shipment or cancel at any time.
What categories of food does THRIVE offer?
Fruits
Vegetables
Cereals and Grains
Dairy
Meats & Proteins
Bakery
Sauces
Seasonings
Basics
Beverages
Thrive Express (Meal in a bag)
Snackies
To Go
Chef Packs
Pantry Organizers
Long Term Food Supply
SHOP NOW!
Click SHOP NOW to browse the website and learn more about THRIVE or to begin shopping.   Feel free to email me at taresa@pinnaclepantry.com with any questions you may have.
You may fill in the form below  to find out more information about THRIVE LIFE products or about becoming a consultant.
Please leave comments related to this blog below in the comments field below the Thrive Life form.   We appreciate your comments!  Note: If you leave comments you are giving us permission to store your info from your comment so that we may reach you later.  We do NOT share your info with any third parties.