What is Simple Plate? Why do I care?
Simple Plate™ is one of the latest additions to Thrive Life line of foods!
Simple Plate™ will help you get dinner on the table much faster.  This convenient meal kit has prepped and proportioned ingredients that stay fresh for months and months!  There is no food that is going to spoil if you fail to cook it tonight, but if you took out meat to thaw and don't cook it and then you stick in the fridge and you still don't cook it what happens?  It goes down the disposal!
Families need a go-to-dinner solution that doesn't cut corners.   With prepped and portioned ingrediatens that stay fresh for weeks, this is dinner that hits the spot without breaking the bank.  No time required for peeling, chopping, dicing, rinsing, etc.
Freshness without Preservatives! Fresher than Fresh freeze dried Thrive Life foods!  There is also a minimum amount of packaging and everything's recyclable!
Average cost is $6.00 per plate.  Other meal delivery companies average $10 to $12 per plate.
Prepped, portioned, and ready to eat in 30 minutes or less.  Now that's simple!  Simple Plate™that is!
What do I mean by Fresher than Fresh Thrive Life Freeze Dried Foods?  Take a look at this.  It explains it!
Watch this short (2 minute) video to learn a little more about Thrive Life.
Thrive Life: Simple, clean, food delivered to your door!
What choices of Simple Plate™ meal kits are there?
There are 24 Simple Plate™meal kits currently available from Thrive Life.  Here are pictures and info on a few of them.  I will direct you to the website to view the others.
Southwest-Style Chicken Quinoa Bowl
Tex-Mex without the drive-thru? Yee-ha! Whip up this bowl of southwest flavors in just a few minutes with a creative mixture of fluffy quinoa, hearty veggies, and tender chicken slices! Will you feel like a Pinterest mom? Absolutely. Who knew healthy could taste so awesome?  Click picture to go to website.
Serving Time: 20 min  Allergens: Dairy
Nutrition Per Serving: 280 Calories, Fats 13g, Protein 13g, Sodium 490mg
Chicken Craberrry Pot Pie
A creamy vegetable and chicken medley wrapped in a golden crust makes for a pot pie that Grandma will praise! This meal is here to satisfy your fall cravings in record time, so get that good ol' homecookin' without all the prep work!
Serving Time: 40 min
Allergens: Dairy, Wheat, Soy
Nutrition Per Serving: 400 Calories, 20g Fats, 14g Protein, 530mg Sodium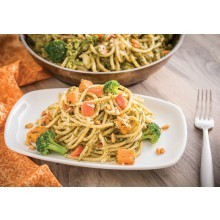 Butternut Squash Pesto Bucatini
Twirl your fork into this one-of-a-kind pasta drizzled with a creamy pesto sauce! Finish it off with a mix of savory veggies, and you've got an Instagram worthy dinner! Go ahead and snap that pic. We don't blame you.
Serving Time: 23 min
Allergens: Tree nuts, Dairy, Wheat
Nutrition Per Serving: 590 Calories, Fats 35g, Protein 13g, Sodium 640mg
Grilled Chicken Tacos with Refried Beans
Tender grilled chicken infused with spices and lime with a medley of vibrant red bell peppers, chopped onions, and green chili peppers all wrapped up in a homemade tortilla. Served with a side of creamy refried beans, taco night is now gourmet!
Serving Time: 35 min.
Allergens: Wheat, Milk
Nutrition Per Serving: 420 Calories, 17g Fat, 19g Protein, 660mg Sodium
Remember when you were a kid and loved making your own pizza? You may have grown up, but everyone knows making your own pizza is still a hoot and a half! So whip out those old pizzeria skills and customize a "grown up" pizza with an array of hearty veggies and savory sausage for a dinner that's fun to make and fun to eat!   Classic makes one 12 inch pizza. Family makes two 12 inch pizzas.
Serving Time: 1 hr 30 min
Allergens: Dairy, Wheat
Nutrition Per Serving: 470 Calories, Fats 26g, Protein 21g, Sodium 890g
Korean-Style Beef with Brown Rice
Instead of takeout, take a bite into a savory bowl of Korean-Style Beef! With the flavors of your favorite Asian restaurant, each tender bite gives you a big kick of sweet and spicy! Laid on a bed of sautéed veggies and fluffy brown rice, you won't need to leave your house for a restaurant-worthy meal! We've defrosted, browned, and shredded your beef for you!
Serving Time: 20 min.
Allergens: None (Pantry items not included)
Nutrition Per Serving: 460 Calories, Fats 11g, Protein 24g, Sodium 1710mg
Tuscan-Style Beef Pappardelle
Shredded Beef in an Italian dish? Oh, yes! Twirl your fork into this savory pasta packed with veggies and drenched in a balsamic glaze with a hint of sweet tomato sauce. It's a bowl of pot roast mixed with the softest, tastiest ribbon noodle you've ever eaten!
Serving Time: 22 min
Allergens: Wheat, Milk
Nutrition Per Serving: 280 Calories, Fats 8g, Protein 19g, Sodium 580mg
There are currently seventeen other Simple Plate™ meal kits available from Thrive Life.  All of these creation have come from the Amazing Culinary Team at Thrive Life.   You can find all of these by clicking on this link to the Simple Plate page.
Classic Wedding Soup
Creamy Red Pepper Polenta
Maple Pulled Pork Waffles
Sweet and Sour Beef
Tuscan Quinoa Bowl
Thai-Style Coconut Beef
Chicken Farfalle Pasta Primavera
Rigatoni Rustica
Chicken Bolognese & Gnocchi
South Pacific-Style Stir Fry
Garden Veggie Lasagna
Asian Style Noodle Salad
Bolognese Bucatini
Savory Green Curry
Veggie Infused Pizza
Chicken Cranberry Crepes
Chicken and Dumplings
So why should you care about Simple Plate™ and Thrive Life?
If you are in need of ways to create quick and healthy meals and need to stay away from fast and fried foods, and haven't given Thrive a try, I suggest you do so as soon as possible. These are easy to prepare if you just follow the instructions.  Children can prepare these meals. No danger of the kids cutting themselves with knives while trying to cut and dice veggies, etc.
You may feel these seem pricey but consider the laboring you don't have to do and the fact that there is no waste and they are much healthier than the fasst food you might replace them with!  Plus these have a long shelf life due to the freeze drying and so they won't go bad in a week or two if you don't get around to preparing a meal with them..
Click on any of the pictures or the Highlighed Links to go to my Pinnacle Pantry/Thrive Life page.
Comments Please!
Please take the time to leave comments below about this blog.  We appreciate your thoughts and would like to hear from you.  Feel free to ask questions and we will reply with in 24 to 48 hours to your questions.  Note if you leave a comment you are giving us permission to store your contact info so that we may respond to you.  We do not share your info with any third parties.