Anker Portable Charger PowerCore 20100mAh and Anker Wall Charger – Review
Roughly 2 1/2 years ago (Oct 2015), my husband was insisting that we needed to order one of these chargers and I was not understanding why, as we had the wall cell phone charger already.   I did admit we had no portable charger and so we went ahead and ordered this charger and a smaller one with less capacity.
The issue was our batteries on our cell phones were always going down early in the evening when we typically spent more time on the phones.  We had Samsung S5 phones.
Wow, why did we wait so long?
Within the first week, I realized the advantage to having a portable charger and I would highly recommend this one to anyone.  I use this charger at least a couple of times each week sitting in our living room.  It charges my phone very quickly from 2% to 100% in less than an hour.  I have taken it on road trips and used it in the car and in the cabin on a cruise ship.  It is very handy.  Weighs less than a pound.  Can fit in a purse, laptop bag, suitcase, etc.
I highly recommend this product!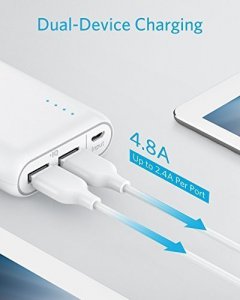 Product details:
This charger weighs 12.5 oz. While fully charged the charger can charge the iPhone 8 seven times and the Galaxy 8 five times or the iPad mini 4 twice.  Ultra-High Capacity.   Very nice size.  About 6.5 inches long and 2.5 inches wide.
The PowerIQ and Voltage Boost combine to deliver high speed charging.
It recharges itself in 10 hours with a 2 amp charger, 1 am phone chargers may take up to 20 hours.
It is Certified Safe with Anker's MultiProtect safety system.   It has high quality LG battery cells which ensure complete protection for you and your devices(see picture below).
You can charge two devices at one time and actually be using one while charging it.
We charge this charger up and it usually lasts all week,  even with both phones being charged multiple times during the week.  It has blue lights on the side which indicate how much power is left in the charger.  It starts charging immediately when you plug your device into it.
Estimated price: under $50.00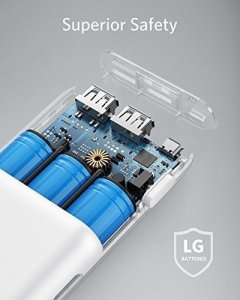 What you get in the package:
Anker PowerCore 20100 Portable Charger
Micro USB Cable
Travel Pouch
Welcome Guide
18 Month Warranty and Customer Service
USB-C Cable
Lightning Cable for iPhone/iPad sold separately
Wall Charger for this charger is sold separately (see below)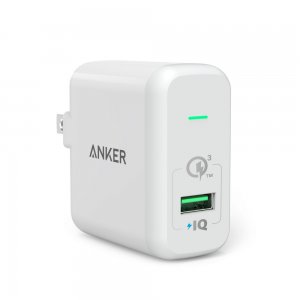 As previously noted, the Wall Charger for the PowerCore 20100 does not come with it.  We bought the Anker PowerPort+ 1 (Quick Charge 2.0 (now 3.0) and PowerIQ Technology 2-in-1 Premium 18W USB Wall Charger) for Galaxy S6 / Edge / Plus, iPhone, iPad,Nexus 6 and More.  Great Charger shown below.  Very Fast!
This Wall Charger uses the Fast-Charging Technology of PowerPort+1 which guarantees the fastest possible charge to any smartphone or tablet, thanks to Quick Charge 3.0 and PowerIQ Technology.  Anker Safety First Technology.
Comes with a welcome guide and an 18 month warranty and customer service.
We have never had to use the Anker Customer Service but I read several reviews which commented they had to contact customer service for some reason and were very happy with the customer service.
Estimated price: under $16.00
I have researched reviews online and found both products highly rated and with that and my own experience with both of these products I highly recommend both.   Click on any of the pictures or the blue links to Buy Now! 
Please leave a comment below. We welcome your thoughts! 
Please note that by submitting a comment you are also consenting for us to store your info from this submittal in our records. We will not furnish this information to any third parties. It is just stored in case we need to contact you.