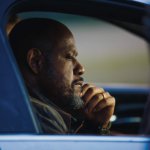 Movie Title: How It Ends
Trailer: How It Ends Trailer
Director: David M. Rosenthal
Cast: Theo James, Forest Whitaker, Kat Graham, Grace Dove
Film Location: Mostly in Winnipeg, Manitoba, Canada.  One seen was filmed in Steinbach, Manitoba, Canada
My Rating: 6 out of 10
The Beginning starts off pretty good
This movie definitely got me thinking again about the possibilities of something like this happening in the US and around the world.  It is entertaining.   It did keep my attention.  This world (especially in the U.S.) is so dependent on our electricity, water, the internet, cell phones, etc. that a disaster that took down anyone of these could leave this spoiled country in shambles.
The young couple in this story have just found out they are going to be parents of a little boy.   Sam (the girlfriend) and Will (the boyfriend) have not told her parents yet and there is obviously a 'not so good' relationship between Will and Sam's dad, Tom.   Tom is a retired career military man and he is tough on Will.   Sam is his only daughter and he wants the best for her and doesn't fell Will can provide that.  Lots of obvious tension there.
Will has to make a business trip to the city where Sam's folks are and goes by to have dinner with them, leaving Sam at home in Seattle.  The dinner didn't go so well and Will leaves her folks to head to the airport to fly back home.  He is on the phone with Sam when there is some major noise and 'she says something is wrong' and they lose their connection.
Next thing that happens is the power goes out, the internet goes down and it happens all over the U.S. (more…)